Project Access-Collin County is a program of The Collin-Fannin County Medical Society and a partnership with the Collin County Commissioners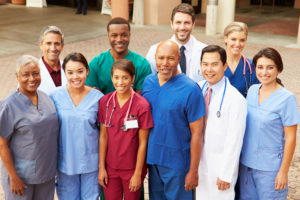 Court and the Collin County Health Care Foundation. Essential to the success of this program with Collin County Health Care Services are the volunteer primary care and specialty physicians, eight hospitals, lab and imaging services, pharmaceutical resources, and other cooperating community health care services. They all make possible this county-wide program that cares for those who are medically uninsured and indigent.

PACC currently navigates healthcare for Collin County residents who are without insurance and are 200% or less of federal poverty levels.  To date, PACC has served over 980 Collin County residents. Crucial to the success of PACC is the dedicated network of volunteer physicians.  The PACC network currently consists of 54 primary care physicians and 99 specialists.

Project Access-Collin County has made several enhancements to our program to better assist our volunteers and our patients.  In 2014, PACC added Navigation Services which provides administrative management to PACC patients, such as appointment reminders, transportation coordination, and access to free or reduced cost medications. PACC is also now a Community Partner with the Texas Health and Human Services Commission.  This program makes it easier and more efficient for Collin County residents to apply for and manage their HHSC benefits. As a Community Partner, PACC is now able to apply for patient benefits directly from our offices, rather than sending patients to a State office.  What once took weeks or even months, will now take only a week.

PACC has two Certified Associate Diabetes Health Educators on staff to educate patients directly and again empower the patient to take an active role in their own healthcare.  Our program includes two bilingual staff members to assist Spanish speaking patients.
Who do we help?
Project Access-Collin County navigates care for Collin County residents who earn 200% or less of the federal poverty levels.  According to the American Community Survey, during the time period of 2009 to 2013 7.8% of our Collin County Residents were living below the federal poverty level.  A number of programs and organization exist to help these residents.  Project Access-Collin County's goal is to provide immediate access to preventative and routine healthcare, empower clients to participate in their care and coordinate with other local, state and federal resources to promote our community's overall well-being.
How do we help?
Our organization encourages clients to create goals of good health and self-sufficiency.  Each PACC patient is provided access to a medical home, specialty care, ancillary/diagnostic services and medicines.   We provide a bridge for residents who are uninsured to connect to the appropriate resources that will provide a long term plan for personal health and success.  Project Access-Collin County actively promotes and empowers clients to reach the goal of access to healthcare and continues to transition its uninsured clients to state, federal and private healthcare programs.
Since our inception in 2011, Project Access-Collin County has provided these services to over 980 Collin County residents.
Our Impact 
 2016 Highlights
Estimated Value of Services 

$1,102,215
Clients Transitioned to More Permanent Forms of Healthcare 

35% 
Prescription Assistance Secured 

$2725,349
Total Unduplicated Clients Served by PACC Since 2011 

972